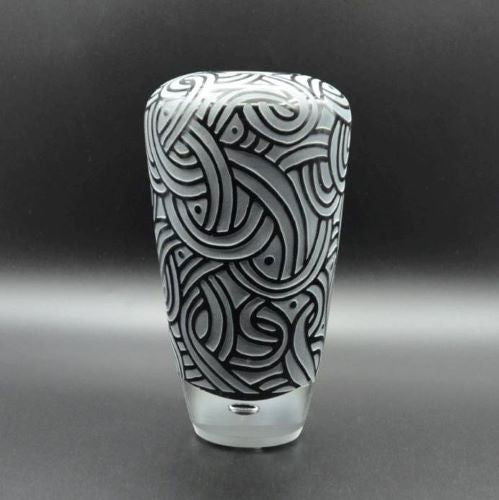 How to Care for Sandblasted Etched Glass
The idea for this post came from our Etsy customer Sara.  Sara was not happy with the look of her recently purchased black sandblasted glass vase. Taking great pride in our work, I asked Sara to send pictures to see how we could help.  I couldn't blame her after she sent these pictures. 
There are a few things that can cause this effect on sandblasted glass.  One is air drying after in contact with water.  Another is contact with an oily substance.  The solution – Spray with a glass cleaner (we use Sprayway glass cleaner), wet the entire surface, rub the cleaner into the glass, and finally wipe the glass completely dry with a microfiber cloth.  The sandblasted glass should return to its original sandblasted beauty.  For those oily stains, a second application usually works.  Sara is happy, and we earned her five-star review.  Her vase looks like the photo we posted on Etsy.